Automatic lamb stringing machine
Product description of automatic lamb stringing machine:
The automatic lamb skewers machine is currently the most favorite product of customers. The fully automatic skewers machine uses advanced single-chip technology, controls the proximity sensor, and combines pneumatic and electric to realize automatic signing and automatic meat piercing. The product host is made of stainless steel and food-grade PE material, which meets international food hygiene requirements; desktop control, convenient movement, small footprint; stable work; accurate and reasonable layout, maintenance-free, and long service life;: mobile PE meat skewers mold plate, It is easy to clean, and the mold can be changed at will to meet the needs of different products.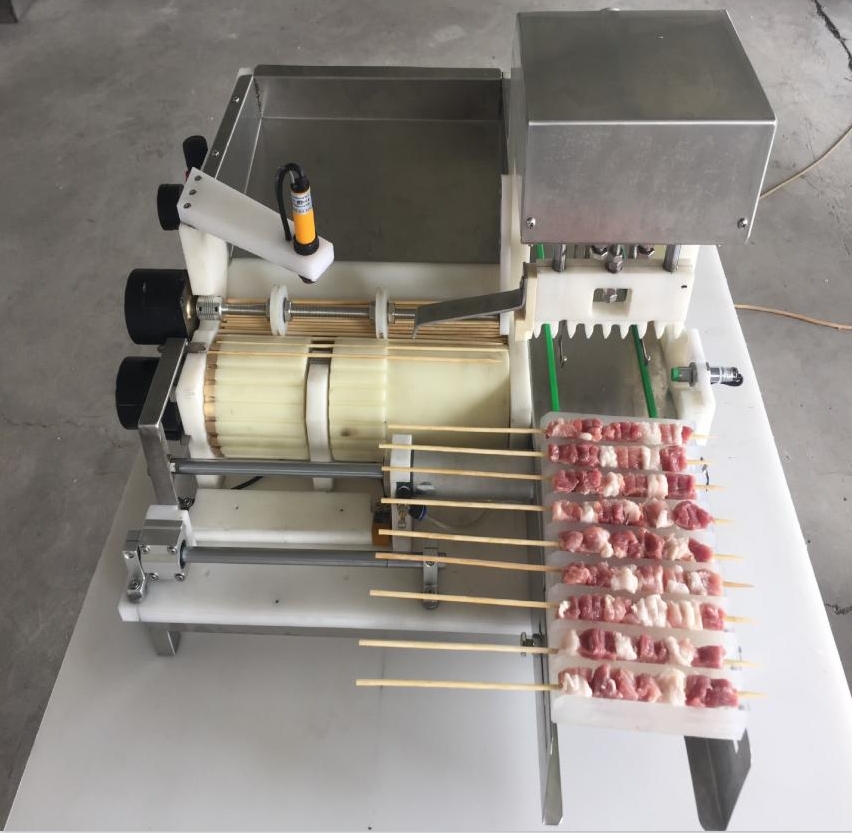 Product features of automatic lamb stringing machine:
Can wear beef, lamb, chicken skewers, chicken skewers, chicken heart skewers, squid skewers, tofu cubes, kelp knots and other skewers; the skewers are uniform in size, clean and hygienic, no rubbing, and good taste; users can choose according to their preferences. Fatty oil is added to any position of the skewers, and the length of the skewers can be adjusted within the required range. It can be knocked and swayed at will without losing pieces. It is an ideal choice for skewers manufacturers and individual users.
Applicable industries of automatic lamb stringing machine:
Meat skewers manufacturers, personal barbecue shops, spicy and spicy restaurants, cafeterias and other industries.
Product parameters of automatic lamb stringing machine: