The operation process of the large mutton stringing machine is still very simple
This large-scale mutton stringing machine adopts stainless steel material and adopts food-grade PE material, which meets the requirements of food hygiene; it is convenient to operate, convenient to move on the table, and has a small footprint; the active induction system is consistent and stable; the pneumatic and electric combined, the layout is reasonable, Maintenance-free and long service life; the movable PE meat skewers template is easy to clean; the mold can be replaced at will to meet the needs of different products;
This product is easy to operate, easy to use, frictionless, clean and hygienic; users can add grease to any position of the kebab according to their own preferences; the length of the kebab can be arbitrarily adjusted within the required range; suitable for various specifications of kebabs ; Suitable for all kinds of bamboo sticks (including iron gun sticks, round sticks), steel bars, and iron bars. The kebab produced by this machine is beautiful in appearance, good in color and fresh.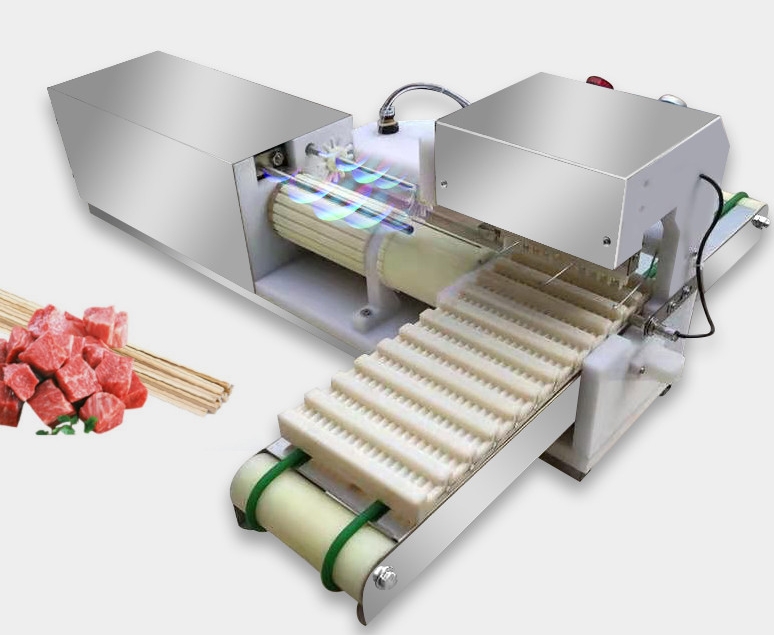 Operation process of large lamb skewers machine:
The operation of this machine is very simple
1 Connect the air inlet of the machine air source processor, adjust the pressure to 0.3-0.5mpa.
2Put the required lottery into the lottery box (as many as possible).
3 Plug in the power source and press the start switch.
4 Put the meat in the template and place it as required.
5 Put the template on the belt (the magnet side of the template faces the left side of the machine) to complete the active threading. After half of the threading is completed, place another template with meat on the belt and loop in sequence. Note: It is strictly forbidden to push the mold by hand.
Note for large lamb skewers machine:
1 Machine specification configuration: one host, three skewers molds, air receiver, manual, etc.
2 This machine is controlled by a microcomputer and driven by compressed air, so a small air pump is required.
3 This machine has no air pump and needs to be prepared by the user.