What the beef skewer machine manufacturer wants you to know ?
The automatic beef skewer machine can thread all kinds of meat skewers. The size of the kebabs is consistent, and the kebabs are neat and beautiful. Beef skewer manufacturers know that the skewers produced by the automatic beef skewer machine are clean and hygienic, with no kneading and good taste.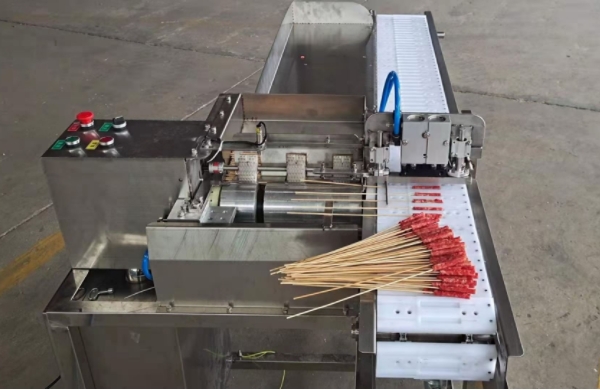 The automatic beef skewering machine uses advanced single-chip technology to control the proximity sensor to combine gas and electricity to complete automatic identification and automatic threading. £2000 an hour. The main machine is made of stainless steel and food-grade PE material, which meets the world's food hygiene requirements; desktop control, easy to move, small footprint; stable operation; reasonable layout, protection-free, long service life; mobile PE meat skewer template, easy to clean; mold Can be replaced at will to meet the needs of different products.
The automatic beef skewer machine is made of stainless steel and food-grade PE material, which conforms to the world's food hygiene requirements. Easy to operate and move, small footprint, stable operation; accurate and reasonable layout, protection-free, long service life;